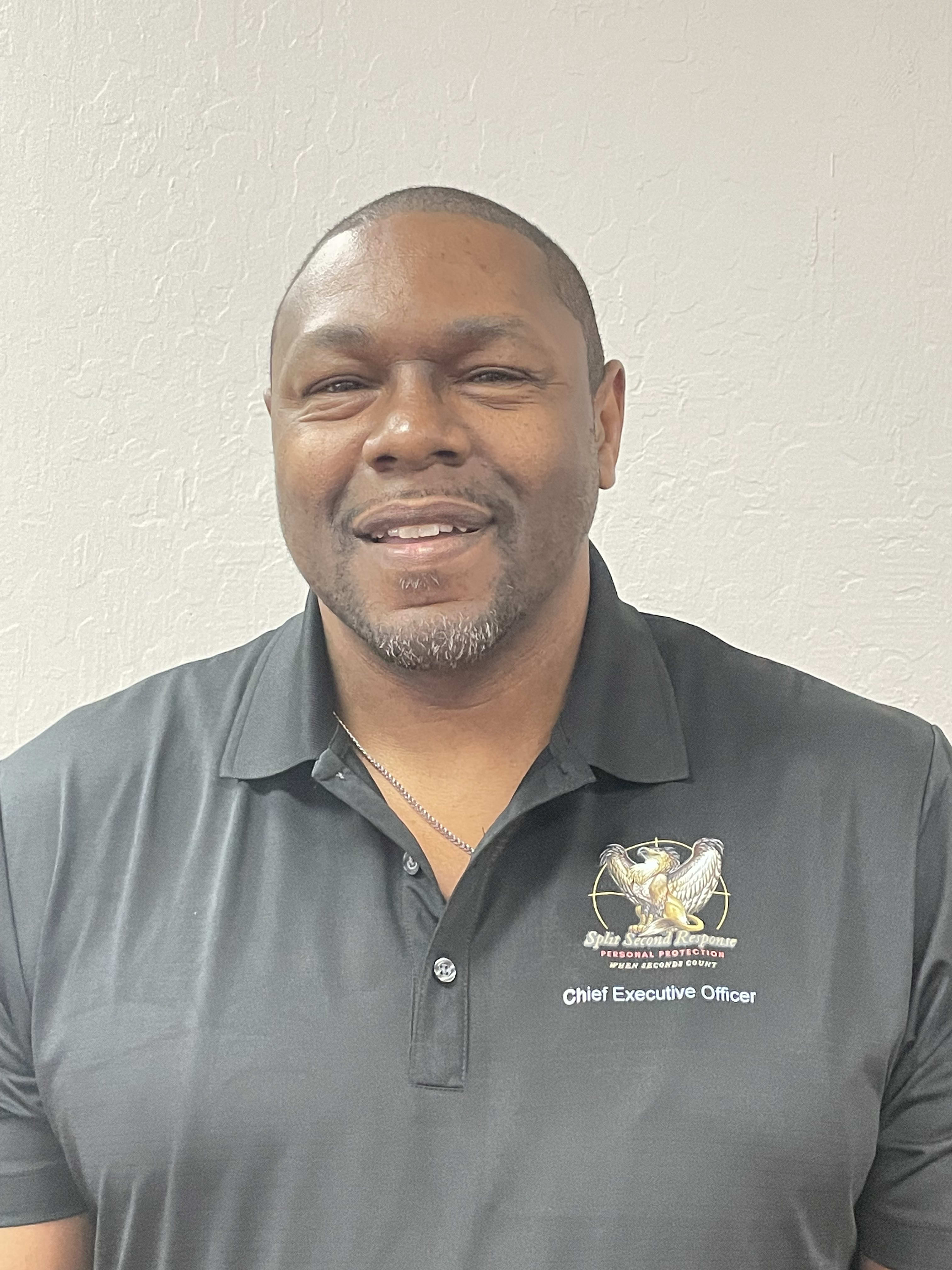 Dr. Tim Calvin, Ed.D., MBA
Dr. Tim Calvin is the founder of Split-Second Response: Personal Protection and Security Training Services and the Conditioned Combat Response (CCR) Self-Defense System. Dr. Calvin has trained in martial arts for over 30 years. He is a 7th Degree Black Belt in CCR, a 5th Degree Black Belt in Kajukenbo, a 5th Degree Black Belt in Senkotiros Arnis (Philippine Stick & Knife Fighting), a Level II Krav Maga Instructor, a certified Kickboxing Instructor, a Blue Belt in Brazilian Jiujitsu, a California Dept. of Consumer Affairs: Bureau of Security and Investigative Services (BSIS) Firearm and Baton Instructor, an NRA Firearms Instructor, an NRA Range Safety Officer (RSO), a DOJ Firearms Instructor, an NRA Refuse To Be A Victim (RTBAV) Instructor, a certified American Red Cross (ARC) and Health and Safety Institute (HSI) Adult & Pediatric First Aid/CPR/AED Instructor, an HSI AVERT Active Shooter Instructor and AVERT Instructor Trainer, an ASP Expandable Baton Instructor, and an Axon Taser Instructor.

In addition, Dr. Calvin is a former police officer with (8) years of law enforcement experience. He was employed by the Oakland and Novato Police Departments, where he worked Patrol, as an Undercover Narcotics Officer, a Defensive Tactics Instructor, a S.W.A.T. Officer, an ASP Tactical Baton Instructor, and a Crime Free Multi-Housing Program Director. He attended the FBI's Defensive Tactics Instructors Course and the FBI's S.W.A.T. (Special Weapons and Tactics) Course.
Dr. Calvin served (6) years in the U.S. Marine Corps as a H.A.W.K. Missile Operator. He served during "Operation Desert Storm" and was honorably discharged in 1992 as an E-5 (Sgt.).
Furthermore, Dr. Calvin has a Bachelor of Science (B.S.) degree in Business Management from Western Governors University (WGU), a Master's degree in Business Administration (MBA) from WGU, and a Doctorate in Organizational Change and Administration from Cal Baptist University (CBU).
Dr. Calvin has received several awards and accolades for community service and giving back to our youth, including the "Diversity Award" from JFK University, the "Men of Merit Award" from the U.S. Congress, the California State Senate, the Contra Costa County Board of Supervisors, and STAND, and the "Making a Difference Award" from the Contra Costa County District Attorney's Office. He is also the Director of AMAPA-4-Kids, a non-profit organization created to help at-risk youth. He is a former board member of the Antioch Kiwanis Club and a former board member and Secretary of the Antioch Police Activities League (PAL).