Concealed Carry Weapons (CCW) Certification Course Information
The purpose of this Concealed Handgun Training course is to provide training and education for people intending to use a handgun for self-defense. This course will also offer information critical in making good decisions while carrying a concealed handgun, as well as situational awareness, safety, proper storage of firearms, and other legal considerations.
Students will be required to earn a minimum score of 70% on the written (multiple choice) exam and a minimum score of 70% on the practical shooting test using a standard FBI Q Target.
2023 CCW & Renewal Courses - Please select the Course and Date you're interested in attending. Early registration guarantees your seat. Please understand that our training course fee is nonrefundable. You have the option to attend on a different date either that month or the following month. If you are unable to make the second date, no refunds are available. A change of date has to be requested no less than 2 days prior to class in order for the change to be honored.
Course Length
Class time in person: 7 am - 12 pm, on the day of class OR a combination of Saturday for class and Sunday as your range date.
16 Hour class students will have to also attend the Basic Firearms training class via Zoom from 6:30 pm - 8:30 pm on Thursday and Friday prior to class.
Current class location for Saturday:
3385 Deer Valley Rd, Antioch, CA 94531
Saturday 8:00 am - 1:00 pm
Range time is from:
Current range time for Sunday: 9 am - 12 pm (Times may very)
Location: Richmond Rod and Gun Club, 3155 Goodrick Ave. Richmond, CA 94801
Range location is subject to change. All students will be notified prior to the date of class.
Firearm Expectations
Students must provide their own personal carry firearm and ammunition when attending class. Ammo can also be purchased at the range prior to the shooting portion of class.
NO LIVE AMMO IN CLASSROOM!
The possession of a license to carry a concealed weapon is a privilege, not a right, and as such is subject to revocation whenever deemed necessary by either the Sheriff or the California Attorney General's Office.
The possession of a license to carry a concealed weapon does not exempt any individual from criminal prosecution or civil liability, other than the act of carrying the specific firearm within the State of California.
The authority to carry a concealed weapon (CCW) is set forth in California Penal Code Sections 26150 through 26225. These sections state in part:
PC 26150 The Sheriff of a County or PC 26155 The Chief or other head of a municipal police department of any city may issue a license upon:
Proof that the applicant is of good moral character,
Good cause exists for the issuance,
The applicant is a resident of the County/City The applicant has completed a course of training as described in 26165 (b) may issue that person a license to carry a pistol, revolver, or other firearm capable of being concealed upon the person.
Firearms Skill Examination
The course of fire is a 36-round course in which the student will fire 12 rounds from 3 distances: 3 yards, 7 yards, and 15 yards. Students will have 30 seconds to fire their 12 rounds at the 3 and 7 yard lines; 45 seconds are allowed at the 15 yard line. The starting position for each distance is "Standing, Holstered." At each distance reloads are conducted after the first 6 rounds.
If an equipment malfunction is experienced, the student will need to safely clear the problem and continue shooting. If the proper and safe technique is used and the student clears it correctly but runs out of time, they will be allowed to finish the string of fire from the shooting position and allowed 3 seconds for each remaining round. If the malfunction is major, the firearm can be safely cleared and made ready, the student will be permitted to re-shoot the entire course.
The target students will be using is the B-27. The passing score on the test is 80%, 29 out of 36 shots in the 7-ring. All rounds fired must be 100%, within the silhouette target, rounds outside of the silhouette will constitute a course failure, a re-shoot will be allowed.
Scoring:
"Hits" that fall on the line that defines the 7-ring will count toward your score. One point is deducted from your score for each round you fire after the allotted time.
Targets will be scored immediately following completion of the course. Should a student fail, they will be permitted a second chance. (Failure upon retesting constitutes course failure, and student will be required to enroll in and complete another sixteen-hour CCW firearms course in order to qualify for further testing.)
You are permitted to have up to three (3) firearms listed on your permit. You must pass this examination with each firearms to be listed on your permit.
CCW Renewals
Required every 2 years. To renew your CCW, you will need to attend a 4-hour legal firearms update refresher course. You have to qualify for each gun you want to be listed on your CCW Permit. Our 4-hour renewal course is done in conjunction with our Intermediate Handgun Course. You'll attend the last 2 hours of the morning session and then the 3-hour qualification on the range. Space is limited, so please plan ahead.
There is a 60-day grace period. If you fail to submit your Renewal Application after the 60-day grace period, you will have to start the process over as a New Applicant. Students are encouraged to start the process 120 days prior to the expiration date.
California Firearms Laws Summary
California CCW Issuance Map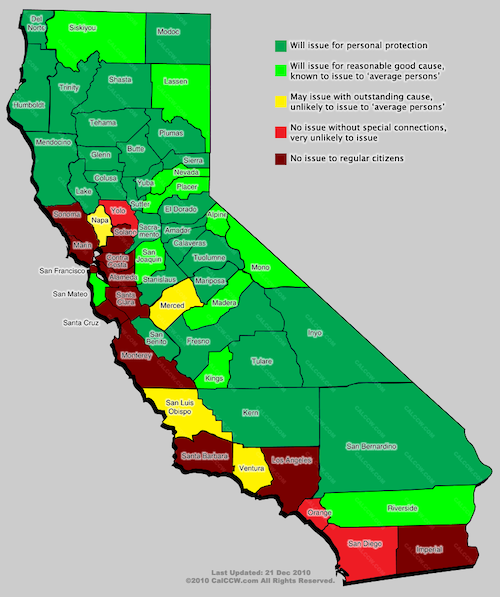 SPLIT SECOND RESPONSE INC. TRAINING RESERVES THE RIGHT TO REFUSE SERVICE TO ANYONE.